EEG (Energy Efficiency Group) has launched HEP (Hotel Energy and Sustainability Portal), a unique online portal which will help hospitality groups streamline their utilities analytics and align all their energy and sustainability management initiatives for enhanced carbon footprint reductions.
Globally, hotel groups are coping with increasing utility costs whilst simultaneously striving to improve their ecological footprint. However, they are facing key operational challenges such as the lack of centralised utilities' visibility, analytics and intuitive reporting across properties, limited communication and cooperation between engineering departments, and a lack of sustained energy management and alignment across the board
HEP has been developed as a direct result of EEG's two decades of extensive experience working with the hospitality industry internationally, helping them reduce their utility expenses and ecological footprint. This unique SaaS (software as a service), accessible from any browser on any device, offers six key features:
Configurable Dashboard – providing a property, region or group-wide views with all the needed KPIs giving a 360° visibility
Advanced Utilities Analytics Module - turning Big Data into easy charts and allowing in depth macro and granular/submetering utilities analytics as well as daily and monthly tracking. HEP has over 70 configurable charts covering all Utilities and Sustainability Indicators
Reports and Alerts - providing access to a number of in depth pre-formatted reports and distributing them automatically to specific users. Sending automatic alerts notifications that are triggered by configurable thresholds across the days, months and year
Knowledgebase/Technical Library - providing a catalogue of Efficiency and Sustainability Improvement Actions across all the infrastructure and operations that grows with every Hospitality Group.
Projects Management Module - providing a clear tracking and management tool on every efficiency/sustainability action taken by every property
An internal Forum - driving inter communication between all users on energy and utilities optimisation topics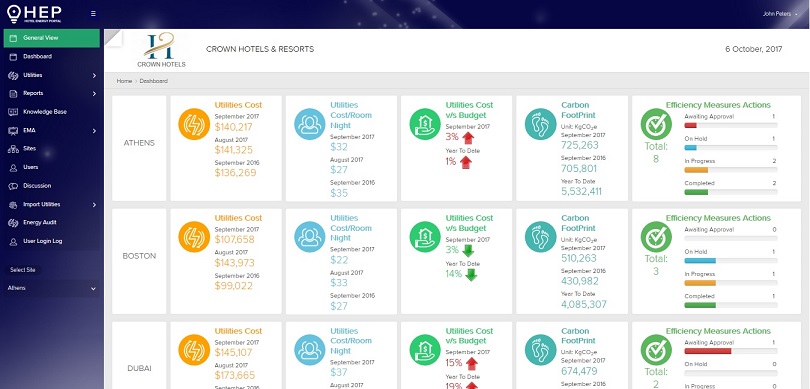 The strength of HEP lies in its foundation as it includes complex tariff structures for every utility, endless submetering possibilities, ease of data upload through connectable sheets, a strong analytics engine to cope with Big Data and a 360° utilities management programme lifecycle.
Speaking about HEP, Ronald Diab, Managing Director of EEG said, "EEG has worked with more than 250 hotel properties across three continents in the last 20 years, helping them reduce their utility costs and their environmental impact by carrying out detailed energy audits and offering a range of energy services. Working closely with all departments has provided us with an unparalleled perspective on the potential problems and how we can help overcome them. HEP was conceived as a result of this, and we believe it is unique in the industry because it is built on a foundation of our technical expertise in energy auditing rather than the 'sustainability/green certification' angle which is so often the case. HEP efficiently covers sustainability reporting, tracking and project management, but also provides hotel groups with an added dimension as it uses the massive amount of data to provide real insight, in addition to enhancing analytics capacities, efficiency management and total alignment!"
For more information Contact Us
#eegenergy #heportal #hospitality #hotels #resorts