The hospitality sector is one of the most energy-intensive and rising energy costs are driving owners/operators, as well as larger corporations, to actively seek energy efficiency.
In fact, energy represents the single fastest-growing operating cost in the lodging industry. There is a well-established case for energy efficiency as a sound business practice, and expectations for hoteliers to demonstrate their climate stewardship are growing.
Hotels use more energy per square meter than any other buildings and Improved operating income translates to higher asset value for owners. Cost reductions through energy efficiency are quantifiable and can be described using key financial metrics, such as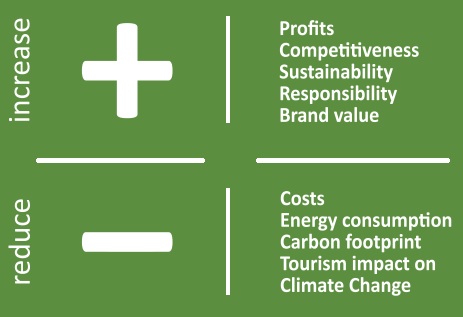 revenue per available room (RevPAR) or the equivalent increase to the Average Daily Rate (ADR).
In the hotel sector, reducing energy costs while continuing to meet the diverse needs of guests, owners, and corporate requirements is challenging but achievable. Energy efficiency provides hotel owners and operators cost savings that benefit the bottom line while it improves the service of capital equipment, enhances guest comfort, and demonstrates a commitment to climate stewardship. Environmental friendliness can be a market strength for a hotel brand, which can lead to a better reputation among consumers.
It is documented that every 10% reduction in energy consumption has the same financial effect as increasing your average daily room rate (ADR) by $0.62 to $1.35.
Companies in the lodging industry have realized that environmentally sound practices not only help the environment but can also lead to cost reductions, business expansion, and profit growth.
EEG's Services for the Hospitality's industry
For any hotel property, the first step in the path of its energy management and energy efficiency is to have an energy audit/assessment completed in order to have a comprehensive performance analysis and adequate road map that will assist in the decision making process.
With more than 300 hotels audited in more than 27 countries and covering all properties' types from landmark historical buildings to all island resorts. EEG is a leader in the Hospitality Energy Services industry.
We embrace the challenge of simultaneously reducing hotels' energy costs and improving hotels' performance. Our understanding of the detailed cross-departmental operations of hotels enables us to provide the most comprehensive and holistic energy audit report. We always take the extra mile with our clients in identifying the Energy Efficiency Measures
EEG services for Hotels include the following:
Energy Audits for Exiting Hotels
Design Peer Review on Energy Efficiency for 'Under Development' Hotels
Remote Energy/BMS Monitoring and supervision for optimal energy efficiency
Implementation of internal Awareness Campaign for staff engagement and Capacity Building for key departments
HEP (Hotel Energy & sustainability Portal) enabling Hotel or Group Wide micro and macro data analytics on energy/utility consumption as well as sustainability practices.
Having an energy audit made by EEG is the best way to get a comprehensive view of the actions that need to be taken in order to improve the energy efficiency of a specific hotel.
It is an essential step if you want to identify the technical solutions that are the most appropriate to your property.
An energy audit will:
Undertake a holistic review of the present
Reveal problems that can be solved easily through simple, inexpensive actions (Low Cost/No Cost Measures
Identify areas of improvement and assess the potential for energy savings
Help you set priorities, in particular for large investments related to Energy Efficiency, Renewable Energy and Equipment Upgrade
Standard EEG energy audits exceed the requirements of the Levels II of the Ashrae 'Procedures for Commercial Building Energy Audits' and are fully compliant with the upcoming ASHRAE sd 211. More details can be seen here.
EEG undertakes energy audits for Hotels across the world from the Asia Pacific, to the Middle East, Europe, Africa, and the Americas.
What differentiates energy audits are :
How inclusive and comprehensive are the proposed efficiency measures?

To which extent the 'Out of the Box' thinking and the custom-property approach is considered?

The level of the overall detailed road map for improvements.
That's why 'Not all Energy Audits are born Equal'!
For more information contact us.
#hospitality #hotels #resorts #energyservices #energyaudit #energyefficiency #sustainability