An energy audit (or energy assessment) is a systematic approach to problem-solving and decision making related to the optimization of a Building's Utilities Footprint. The primary goals of an energy audit are to qualify and quantify how the building energy systems are performing now, how that performance can be improved, and what will be the outcomes of those improvements for the Owner in financial and non-financial terms.
Reducing the consumption of resources of an existing building is often possible and convenient. However, initiating the process of implementing the changes is not simple if the owner/user customers have little expertise and little or no awareness of the energy status of their building. The problem is not only to evaluate strategies for improving performance but also to define a correct path for their rational implementation, considering not only the technical constraints but also the economic and legal aspects. The decision to start any project stems from the motivation; the stronger the motivation, the easier it will be to realize.
Energy audits vary in-depth, depending on the configuration of the building energy systems, the project parameters set by the client, and the scope and capabilities offered by the energy auditor. Because it usually is not possible to know where the audit process will lead and what level of effort will be the most cost-effective, ASHRAE (American Society of Heating, Refrigerating and Air-Conditioning Engineers) has defined three progressive levels, or types, of audits
There are three Levels of Energy Auditing for Commercial and Institutional Buildings. The chart below summarizes each level.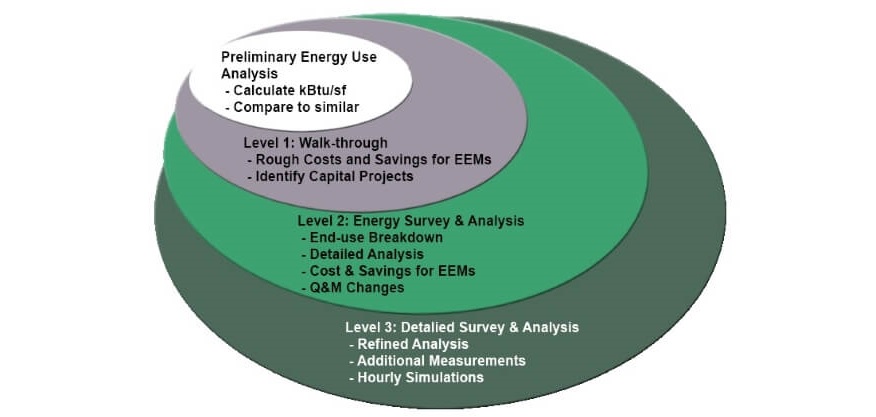 Audit Type

Highlights

Level 1

Rapid assessment of building energy systems
Building energy benchmark
High-level definition of energy system optimization opportunities Outline applicable incentive programs

Level 2

Detailed building survey of systems and operations
Breakdown of energy source and end-use
Identification of EEMs (Energy Efficiency Measures) for each energy system
Range of savings and costs for the EEMs
Spotlight on Operational Discrepancies
Outlining priorities for limited resources, next steps, and identification of EEMs requiring more thorough data collection and analysis (ASHRAE Level-3)

Level 3

Longer term data collection and analysis
Whole-building computer simulation calibrated with field data
Accurate modeling of EEMs and power/energy response
Bid-level construction cost estimating
Investment-grade, decision-making support
EEG approach to Energy Auditing
EEG follows diligently the ASHRAE Procedures for Commercial Building Energy Audit and its standard reports are in between the above Levels II and III.
Our energy auditing team is fully composed of Certified Energy Managers (CEM) who are totally versed in the company's approach of providing every project the needed 'Boutique service' approach. The experience of our engineers along with EEG's strive to always go the 'extra miles' to uncover the maximum number of Efficiency Measures are the prime differentiation of our services. In fact, energy audits' outcomes and results closely depend on the experience of the auditors along with their in-depth and holistic look at every detail in the facility.
EEG's vision on energy auditing and why ' Not all energy audits are born equal' are depicted in this post.
Are you interested in EEG Energy Auditing Services? Click here to get in touch.
#eegenergy #energyaudit #greenbldgaudit